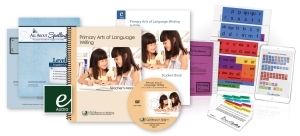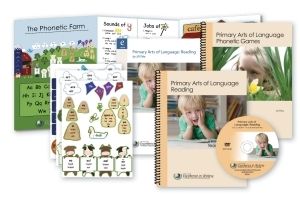 I was so excited to be given the chance to review the
Primary Arts of Language: Reading Complete Package
(PAL Complete Reading Package) and the
Primary Arts of Language: Writing Complete Package
(PAL Complete Writing Package) by
Institute for Excellence in Writing (IEW)
. I had researched their programs before for my oldest homeschooler (he is in 2nd grade but struggles in reading). All of their programs look wonderful but they just weren't in our budget since we had already purchased other curriculum. When the opportunity to review it came up I jumped at the chance and anxiously awaited our package in the mail. These programs are work well for a special needs/struggling reader who is reading at or below a 2nd grade reading level and non struggling readers at or below a 2nd grade level. When I first got the product I was overwhelmed. First let me say the quality of the material I received was great but there seemed to be a lot of it!!! I spent a couple of days just looking through all the material then I got down to business. I watched the instructional video that was included with my two trusty teacher manuals by my side. The video was very helpful and even though the two teacher's manuals sort of scared me. (I still think it would of been easier to combine it into one) But the Reading and Writing can be used as two separate programs or by using them together as one like I am doing so I guess I understand.
As the day approached to begin Lesson One I was still a little nervous about how it was going to go. I shouldn't have been worried at all, my struggling ready loved it and so did I!!! It took us about an hour and a half that first day (I already had all the games assembled), if you assemble the games during class it will take longer. Before we knew it we were five lessons in and we were loving it still. The best part is that is was sticking!! He was retaining the information, I couldn't believe that after only 5 lessons I noticed a difference and my child who has always detested reading didn't dread it with this curriculum. Thanks to
Institute for Excellence in Writing (IEW)
we were finally making progress .
Now we are 30 lessons in and still making wonderful strides. We have incorporated All About Spelling which is included with the
Primary Arts of Language: Writing Complete Package.
I am so impressed with this program that the price seems small. I would glad pay twice as much as what it sales for simply because of the results we have experienced. We use the curriculum daily and although you could probably use it two to three days a week I don't think you would get the same results. Daily use is definitely best in my opinion.
You get a large amount of materials with these packages. The reading program costs $69.00 and comes with; teacher's manual, CD ROM that includes program instructions, printable readers, reading folder games, phonetics farm, and printable student book. The writing program costs $89.00 and comes with; teacher's manual, CD ROM that includes program instructions, student book, and All About Spelling Level 1. The
PAL Complete Reading Package
use beautiful poetry, kid friendly readers, and the phonetics farm to help develop a child's reading skills. The
PAL Complete Writing Program
uses familiar stories that have stood the test of time, printing, copywork, composition and spelling to improve a child's writing skills. This program really is made to go right along with the reading program but if your child is already reading you can use it independently.
We love this program and will continue to use it until we complete and I can't wait to try out many of the other available IEW programs. This company has earned a fan for life. Please check out the review from the other members of the review crew to see what they had to say. Some reviewed the same products I did and others reviewed several different programs by IEW.

You can follow this company and keep up with their great products on pretty much every social media site.
https://www.facebook.com/excellenceinwriting
https://www.pinterest.com/iewriting
http://vimeo.com/iewtv
https://twitter.com/iew
https://www.youtube.com/user/iewtv
http://iew.com/help-support/blog
https://plus.google.com/+Iewriting/